After Tokyo, it was time for the Instagram-built, yoga mat wielding, Eat Prey Love famous, Ubud, Bali, Indonesia. The final three weeks of the trip focused on relaxation, diving, and jungle trekking. Ubud is a decent-sized town cut out of the middle of the jungle of Bali Island.  As a country, Indonesia has the fourth largest population on earth and is made up of 1,700 islands.
One lovely piece of Indonesia is that it is incredibly affordable. For our first hotel, we stayed at Niti Huts (booked through AirBNB) just North of Ubud's main town center. For $58 per night (pretty pricey for Bali), we got a private villa, private infinity pool, and three course breakfast. Sitting in the middle of the jungle, Paige enjoyed playing Kanye's "Good Morning" and taking an Instagram story of our room opening up to the patio, breakfast, and gorgeous view. This was the height of our Instagram-model status for the entire seven months.
See the Bali Sites
Ubud is incredibly touristy, but just outside the town are some really cool and beautiful sites.  On our first day, we negotiated with a driver (pro tip: bargain EVERYTHING in Indonesia) to take us to the Bali Swing, Gunung Kawi, and Tegallalang rice fields.
We first stopped at the Bali Swing. To picture it, the swings are about 100 feet long with a beautiful view of the jungle and river behind. As I said above about Bali, it was made for Instagram posts. When we got there, we found out the price was $30 per person to go on the swings or $12 per person just to go down to the area where the actual swing is located. INSANE! With that, we called "bullshit" and left.
From there, we headed over to one of the few cultural relics left untouched in Bali: Gunung Kawi.  This place was really cool. The funeral monuments are cut right out of the rocks in the middle of the jungle and waterfalls. It feels like you're in the middle of an India Jones movie walking around the site.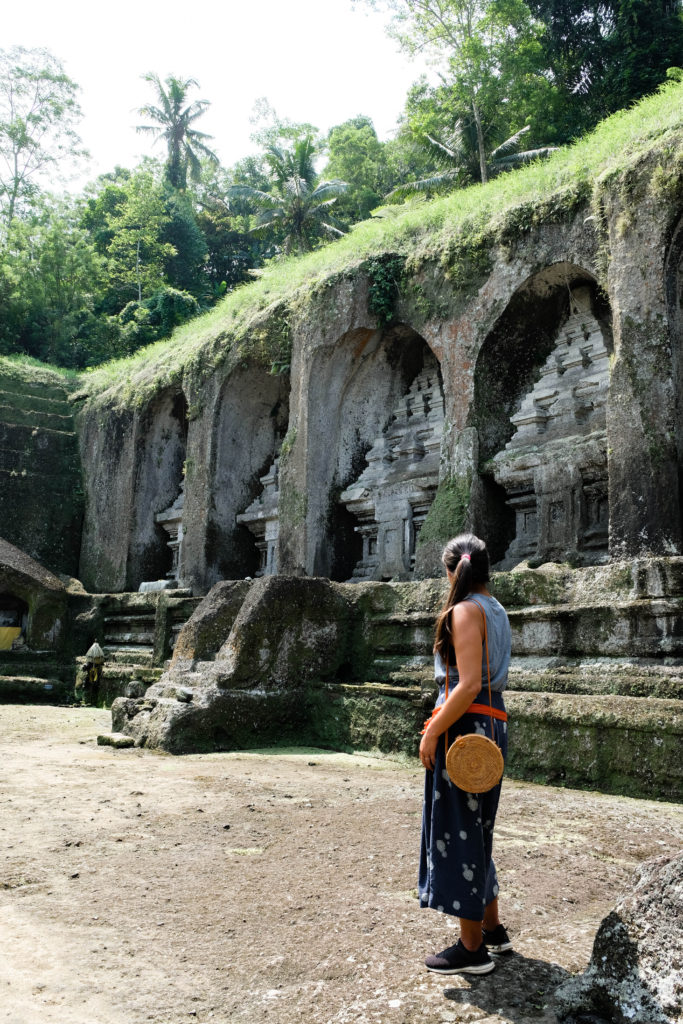 Lastly, we went over to Tegallalang rice fields. These rice fields have tons of tourists (sensing a theme?), but are still very cool, We pulled out the drone and looked at the farmers' beautiful work from above. Like most of Asia, rice is a huge part of the diet in Indonesia. This rice paddy, while pretty, is also in use and feeds much of the local residents.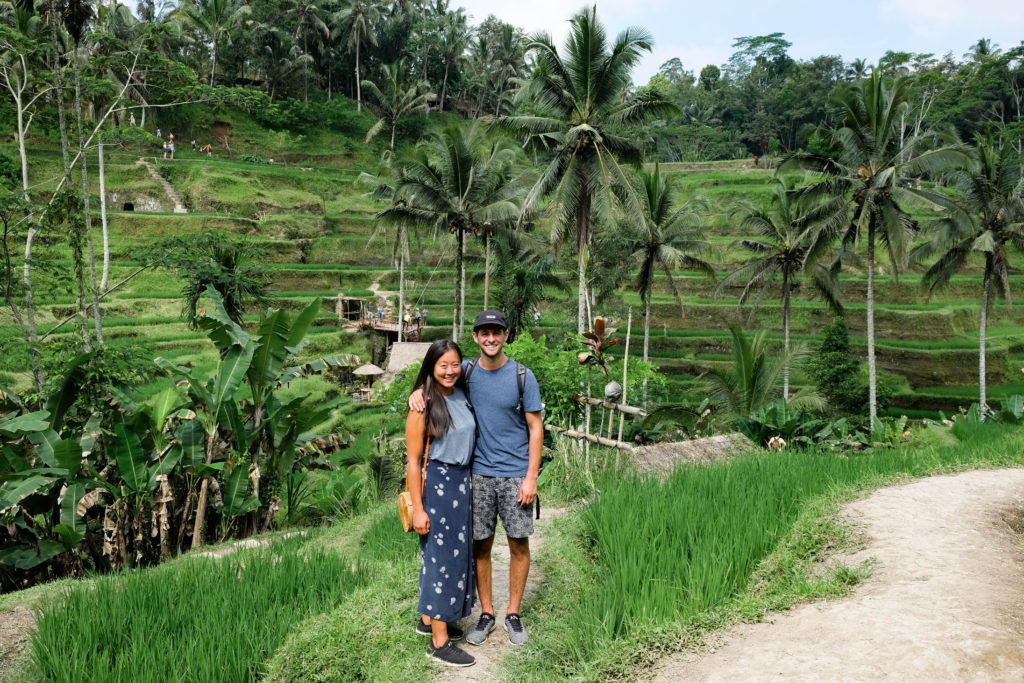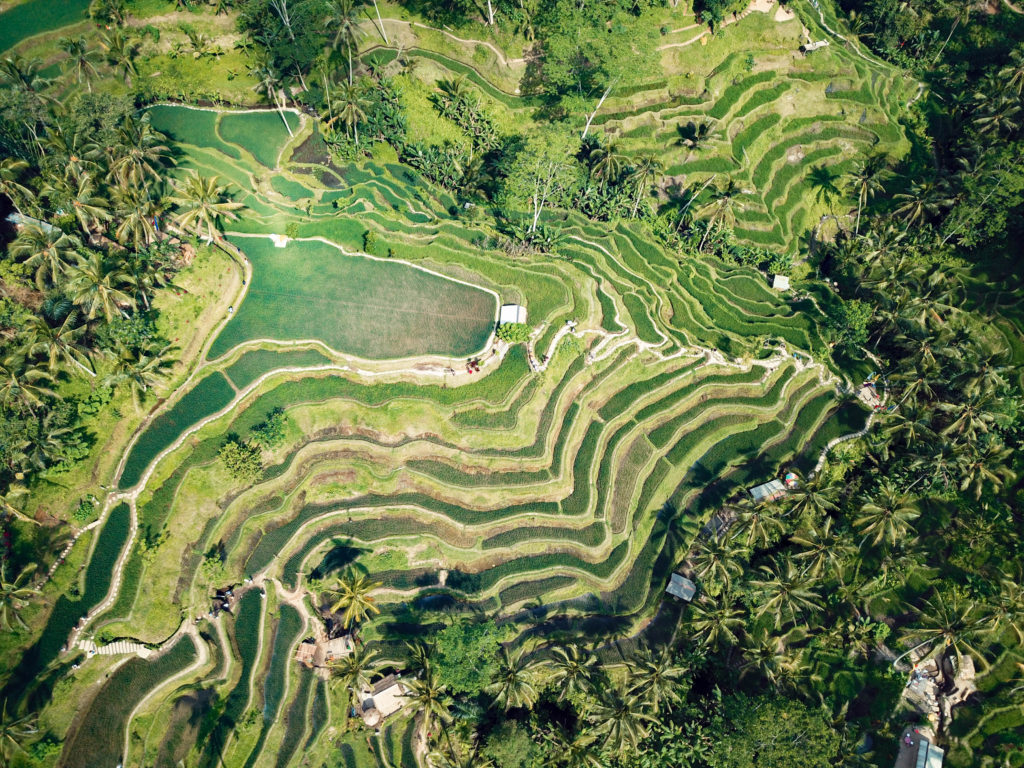 Go Chasin' Waterfalls – Adventure #1 on a Motorbike
While getting a guide was nice on day one, we saw everyone and their mother on a motorbike. For $5 a day, a motorbike is the best way to get around in Bali. The roads are generally pretty good, making it, seemingly, easy.  In reality, I SUCK at driving a motorbike. I had never done it before, so I was nervous. Anytime a car honked, I freaked. Anytime we went over 25 mph, Paige freaked. This will become a theme in Indonesia.
With our helmets on and nerves high, we went for a day in search of the waterfalls in the area. We were not disappointed.  We first went to the area's largest, Tegenungan waterfall. Second, we headed to Tibumana waterfall. At Tibumana, we were told of a much more secluded and quieter waterfall, Goa Rang Reng. This one was by far our favorite. Even though significantly smaller, we went climbing up the waterfall and received a "nature massage" from the flowing water onto our backs and shoulders. The scene was perfect.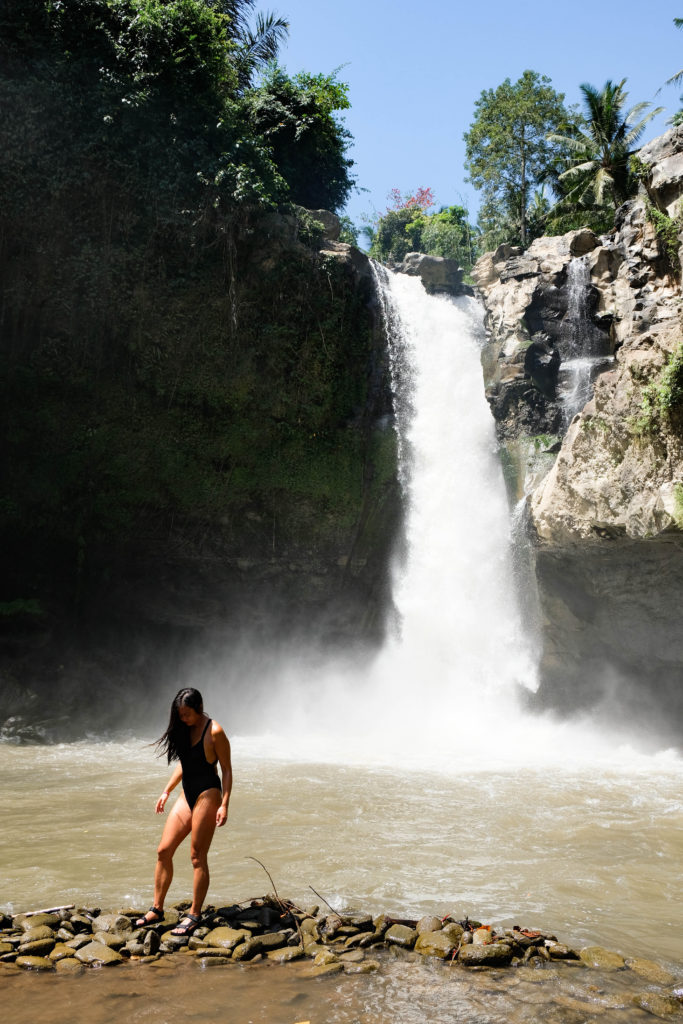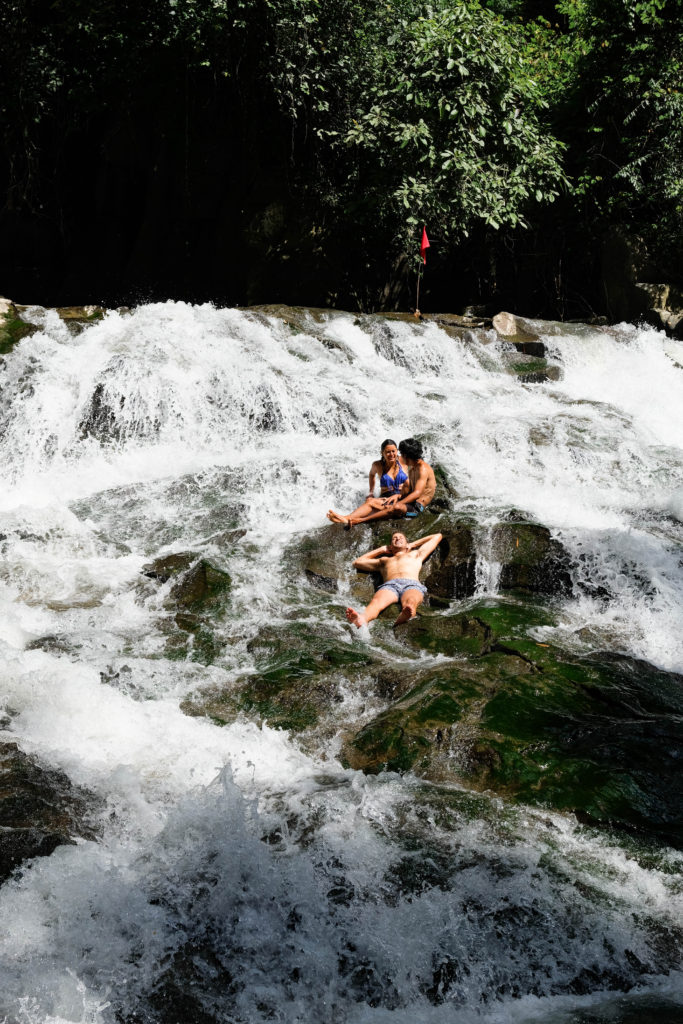 On our way back, we stopped at the Ubud Monkey Forest. We love gorillas and orangutans, but monkeys are pretty gross. Ten minutes in, a monkey pooped on Paige (hilarious). Better than the monkey sightings is the people watching. Guys put food on their head to have monkeys climb on them; they put food in their mouth for pictures that look like kissing. It is disgusting.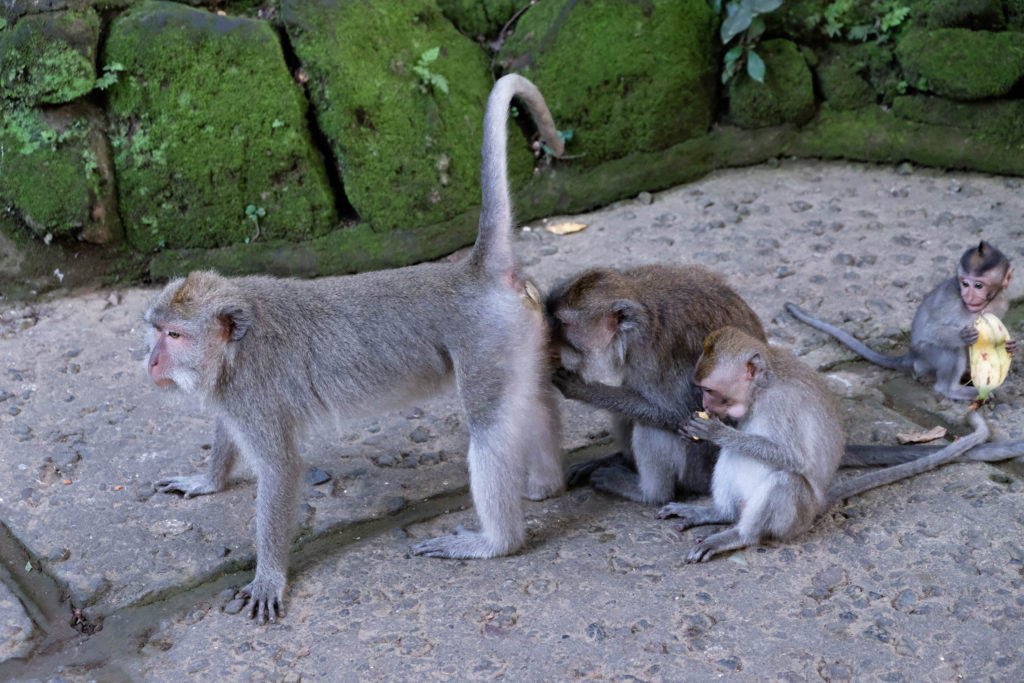 Mind, Body, Soul
Even with the hectic craziness of Ubud, there is definitely a feeling of peace and calm once you're off the street. There are tons of yoga studios and even more massage parlors.  Paige took some time to stretch out at The Yoga Barn a few times during our days in Ubud. While the classes there are very busy, Paige thought they were excellent. For less than $10 per class, you can't go wrong. If we were to have spent more time in Ubud, we definitely would have signed up for a real yoga retreat or extended class.
A far better deal than the yoga classes are the massages. For less than $10, you can get an excellent massage (seemingly) anywhere in Indonesia. Across our three weeks in Indonesia, I think we got 10 massages, each. They're just too cheap not to take advantage of. While there is no photo evidence, I did get a flower bath. It looks pretty cool, but it was pretty stupid. I needed to have the full instagram model experience!
Coffee Makes You Poop and Is Made from Poop
If you have followed us on Instagram, you will know that we have become quite the coffee enthusiasts.  Indonesia is one of the best places on the planet for coffee beans and they have the coffee shops to match.  In Ubud, our favorite was definitely Seniman Coffee.  They had excellent beans, roasting on site, and well-trained staff. They made an awesome cappuccino. I wish I had done any research beforehand because I would have loved to take one of their courses on espresso making, coffee tasting, or roasting.
Beyond the "regular" coffee, Indonesia is very famous for Kopi Luwak, aka "civet coffee," aka "POOP COFFEE."  Kopi Luwak is coffee that has had the fruit eaten and digested by a civet. After the coffee fruit digests, it is passes through their intestine and out their butt. The "poop" coffee beans are collected and cleaned. They're not completely sure why, but the digestion process has tremendous effects on the coffee and really changes the taste. Coffee connoisseurs say that the coffee shows no bitter or burnt taste, but is not necessarily any better than other coffee. In the US, the coffee can cost $700 per kilogram or $25 per cup. We tasted the coffee at a Anomali Coffee. It come out scalding hot and unbelievably burnt. HOWEVER (Stephen A. Smith voice), the coffee did not taste at all burnt. It was very smooth and flavorful. Is it worth 10x a normal cup? Absolutely not. Still, it was worth the try.