I needed to plan something special for Paige's 30th birthday. On a trip of this magnitude, it becomes harder and harder to outdo ourselves and keep experiencing the wild and different. What did I choose? Only the most mysterious and remotely-inhabited island on the planet: Easter Island.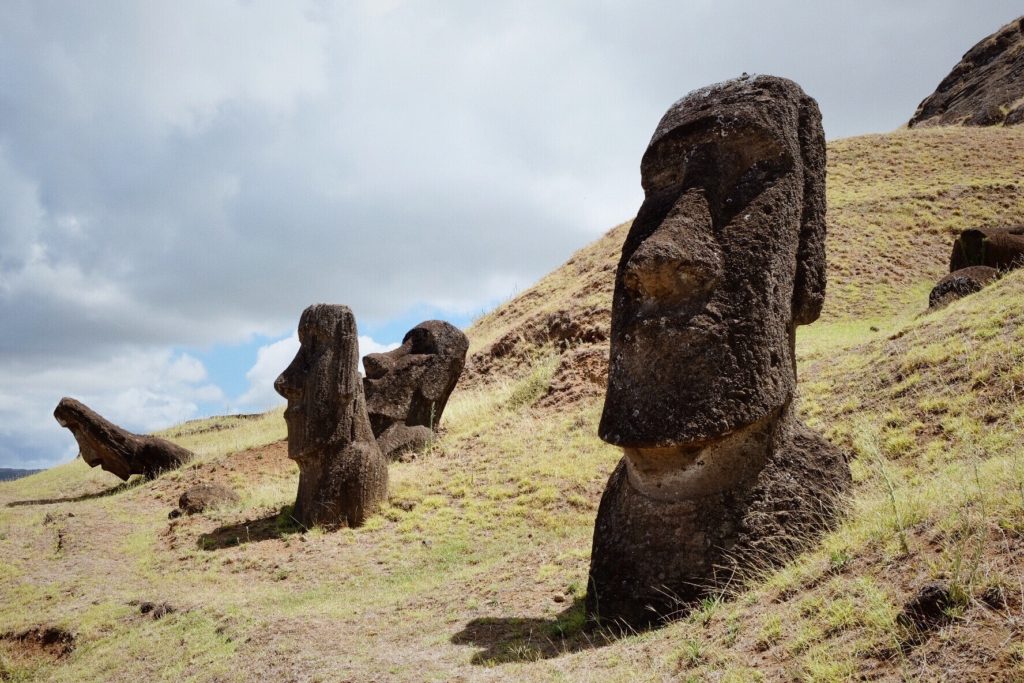 Deals, Deals, Deals!
Getting to Easter Island is both a pain and expensive. There is only one or two flights daily from Santiago. When we first looked, roundtrip tickets in coach were nearly $750 per person. Paige was not down to pay that, but I would not be denied. After some deep googling, I opened an incognito browser in Chrome (usually used for more nefarious purposes) and headed to the Chilean version of LATAM's website. Here, I found something: roundtrip tickets in business class (complete with lie-flat bed) for $360 per person! I used my Loomis Spanish skills and booked.
Pro-tip: You can find such deals for many international airlines, but may be asked for a local ID number at time of checkout. Luckily, LATAM is not one that asks for one.
Highlights Tour
Since Easter Island is part of Chile, arrival is quick and easy. One thing you MUST do at the airport is purchase your Rapa Nui National Park tickets ($80 pp). This gives you access to the majority of the moai sites. We got our bags and headed to our hotel for the next four nights, Hotel Hangaroa. The hotel is only five minutes outside the main (only) town, so we scouted out the scene and walked around to find a laundromat. Starving, we asked our laundry lady where to eat. She suggested we check out the views and eat fresh fish at Tataku Vave. Neither disappointed.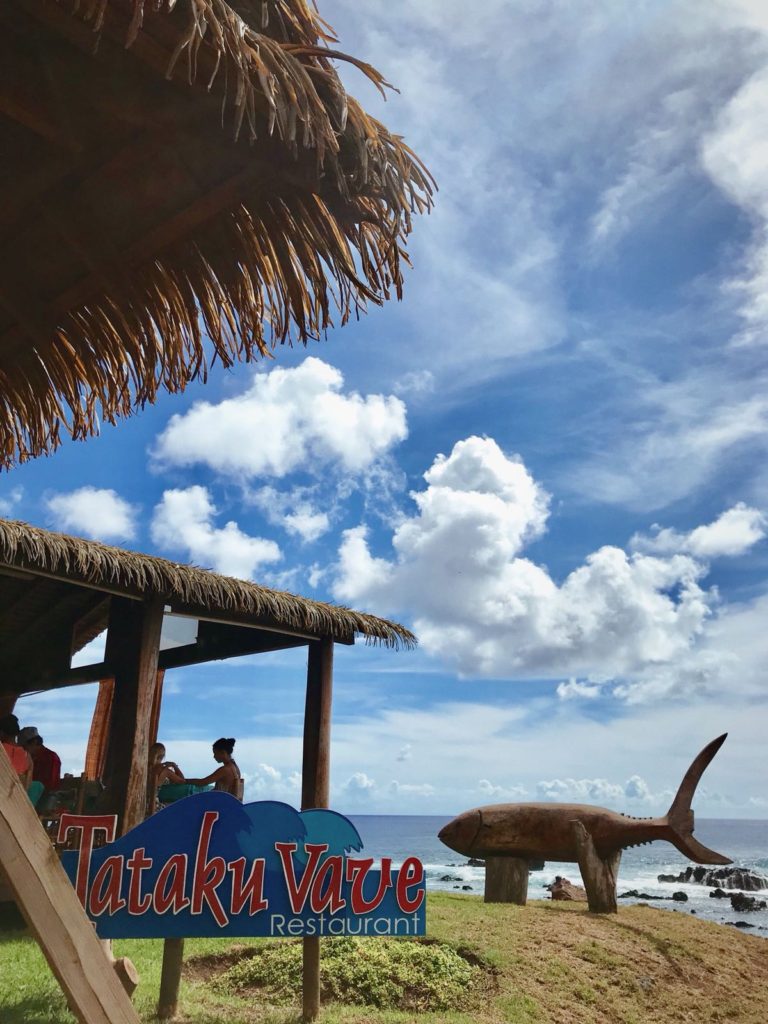 Easter Island (aka Rapa Nui) is unlike anywhere else we've been on the trip. With such a unique history and culture, we opted to go on a private tour. While a bit pricey, we signed up for the "Highlights Tour" with Easter Island Spirit (h/t Victor). Our other options were a group tour or no tour. Seeing twenty seventy-year-olds dawdling around and yelling in American accents made the private tour completely worth it. If you opt for no tour, there are very few signs and descriptions, so going solo would not give you much background, just the visuals.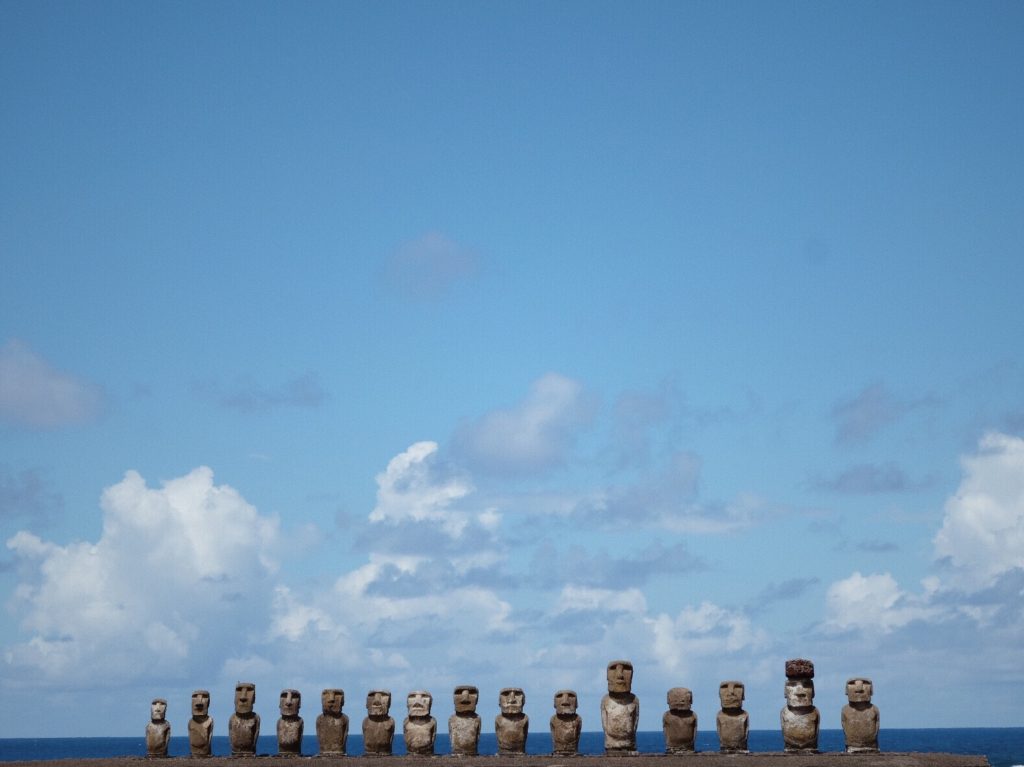 The tour took us to the main sites, giving us an overview of the moai and the island's history. Rapa Nui's landscape is marked by volcanic topography, having been formed by three extinct volcanoes (including our favorite, Rano Kau). Without the tour, I doubt we would have seen half of the island's spots and DEFINITELY would not have even begun to understand the life and culture of the Rapa Nui people.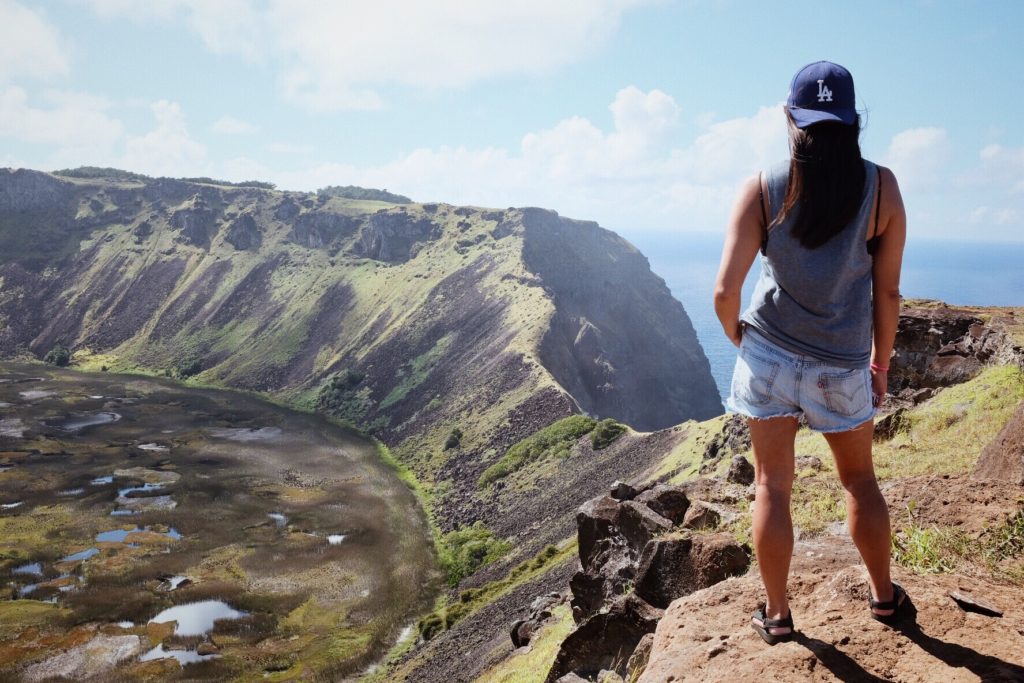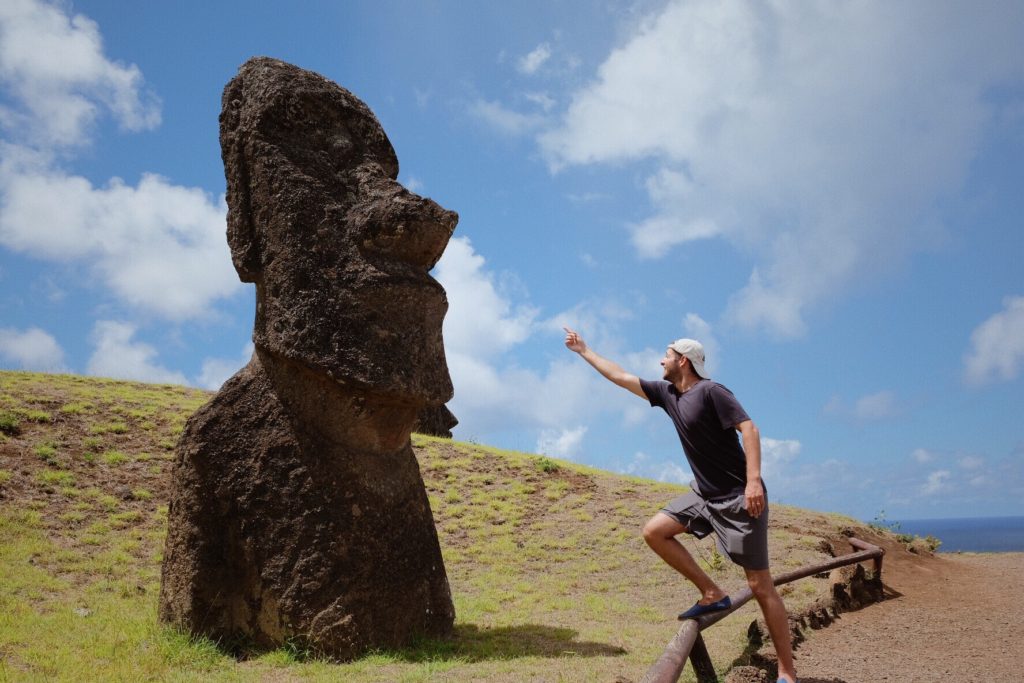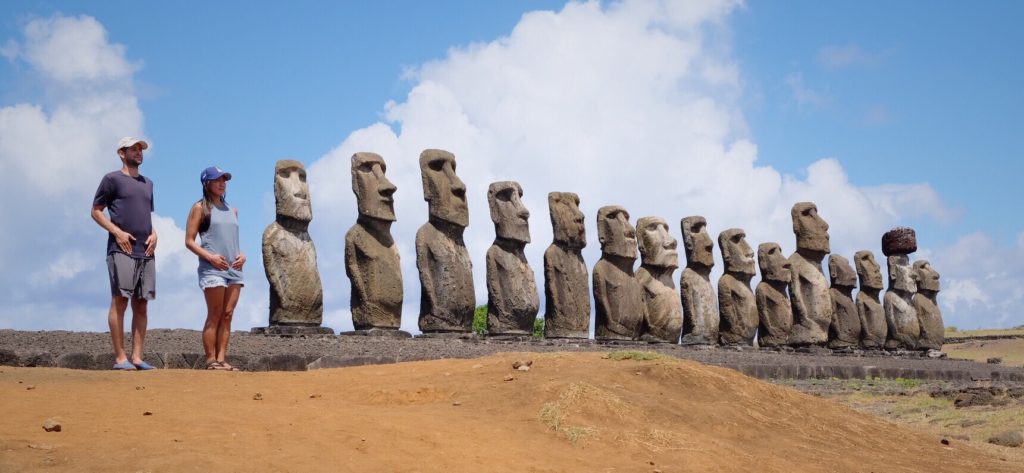 The Moai
I will refrain from describing the history and theories of the moai in this post because the wonder of it all is so cool and I don't want to spoil it for anyone who may go. Instead, here are some basic facts:
The Rapa Nui people carved ~900 moai over an 800 year period.
Archaeologists believe that ~100 people originally came to the island from Polynesia by canoe. At its peak, there were ~20,000. Between infighting, famine, and new diseases from European explorers, the population dwindled to ~100.
A heavy majority of the moai were carved from one rock quarry then transported up to 25 kilometers around the island.
By 1868, zero of the moai were still standing (due to infighting, not the explorers). All moai that currently stand have been re-erected by conservationists.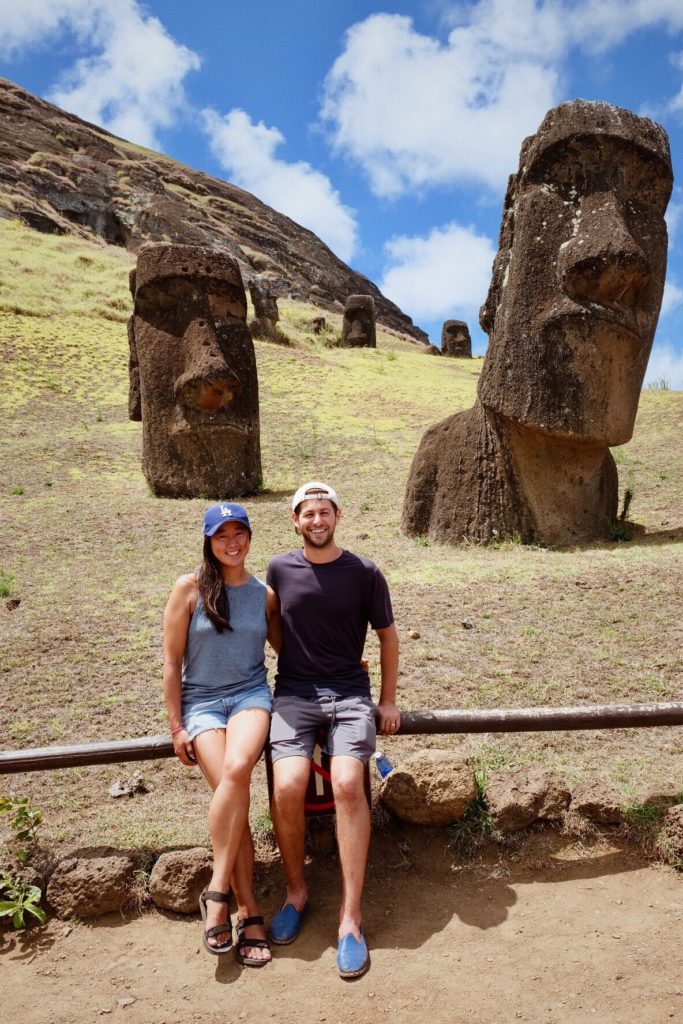 Exploring by 4×4
Our favorite way to explore on our own was by renting a 4X4 (cars and scooters are also available) and driving around the whole island. Wind in our faces, we headed north to the only beach, Anakena. The white sand beach has absurdly blue water in front, moai behind, and shacks serving fresh smoothies and fish.
The 4×4 allowed us to see other sites that were not on the tour. In addition to the beach, we visited the seven moai at Ahu Akivi and the caves at Ana Te Pahu. The Rapa Nui people used the caves for shelter, storing clean water, and defense. Today, you can climb down and explore the intricate systems.
Getting a 24-hour rental also let us accomplish one of Easter Island's musts without paying extra: sunrise at Tongariki.  Tongariki is probably the best-known site with its 15 moai in a row. During the summer months, the sun comes up behind the moai, creating an unforgettable sunrise. We do not like to wake up early on most occasions, but this was absolutely worth the loss of sleep.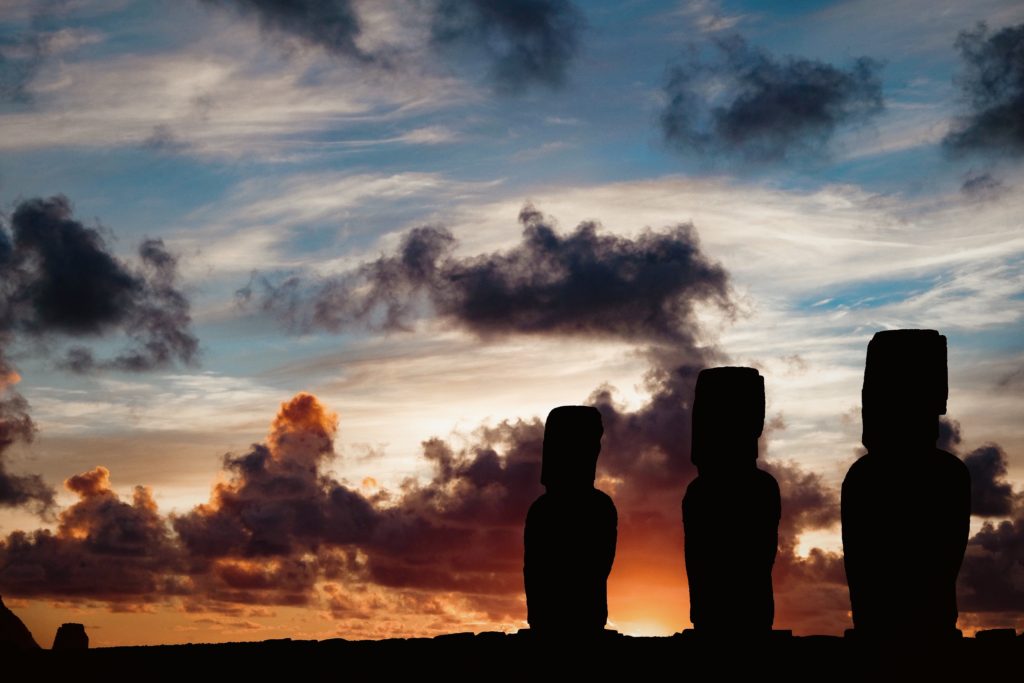 Swimming Moai
The last bit of exploration we did was underwater. Easter Island is known for some of the bluest and highest-visibility water on the planet. On good days, you can see up to 75 meters. Apparently, our day was "bad" and we only had 30 meters of visibility. Still, this was the clearest water we'd seen on any of our dives. Of all the dive sites in Easter Island, one site is most famous because there is a moai underwater. Sadly, it is not original, but it is still cool. Moai aside, the coral structures were enormous and rivaled what we saw in the great barrier reef at Heron Island (the fish do not compare, though).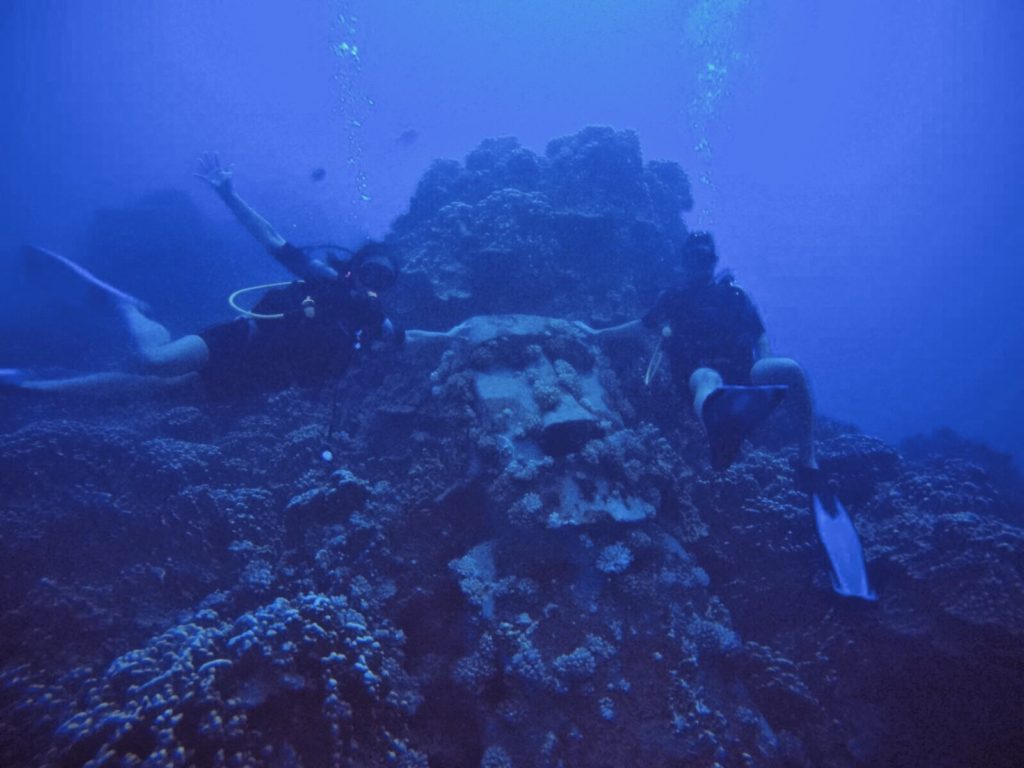 Pro tip: The Chilean Navy will close the port whenever the seas are (or appear to become) a bit rough. Rather than just walking around the day you land, try and dive immediately! There are dive shops everywhere in Hangaroa and all will be happy to take you out. We waited and had our dives canceled two straight days before the Navy (finally) opened the ports. Mike Rapu Dive Center was AWESOME, keeping us up to date on the weather situation and making sure we could experience Easter Island under water.
It is highly unlikely we will go back to Easter Island, but the trip was definitely worth it and a great way to spend Paige's 30th (in my opinion).  There is not much better than fresh fish, perfect weather, and learning something brand new.