People often asked us, "what's the thing you're most excited for on this trip?" For me, the answer came easily. Kilimanjaro was number one on my list. I'd wanted to climb the highest mountain in Africa since studying abroad in Cape Town, South Africa. After nagging Ben repeatedly over the years, he finally caved and agreed to climb it with me (sucker!).
I'd researched tour operators and routes for almost 10 years now, so choosing the 7 Day Lemosho Route with Trek2Kili was an easy decision. Note: I'm writing a separate post on choosing an operator and our experience with Trek2Kili in particular, but this post walks you through our seven day journey to the roof of Africa.
Day 0 – Moshi
We spent two nights in Moshi before starting our trek, giving us time to relax, do laundry, and shop for last-minute essentials i.e. baby wipes (for Ben's precious bottom) and Kit Kat bars (why don't energy bars exist outside America?). We also met Trek2Kili's owner, Aziz, and our head guide, Abu, for a final briefing and gear check.
Aziz surprised me when he said the size of our crew (14 people in total including 2 guides, 1 cook, 1 waiter, 1 toilet porter, 9 porters), but trust me, it takes a village to get two people and all that gear up the mountain. Kilimanjaro isn't like Nepal with its tea houses, hot meals, and plentiful supplies. There's nothing on the mountain and clean water can be hours away.
Day 1 – Rainforest (Mti Mkubwa Camp)
The next morning, the crew picked us up and we drove two hours to the Londorossi Gate. Day one took us through the first of Kilimanjaro's many climate zones where we got the full rainforest experience. We planned the trek around our family vacation in Rwanda, which unfortunately coincided with end of rainy season. While hiking in the rain sucked, it was a short three hour journey to Mti Mkubwa Camp (8,694 feet).
Much to our delight, our crew greeted us with afternoon tea upon our arrival. Our waiter, Chazy, taught us his special hot chocolate recipe by mixing Milo (chocolate malt), Nido (powdered milk), chocolate, coffee, and loads of sugar. We then ate a delicious dinner and received a briefing on day two before retiring to bed.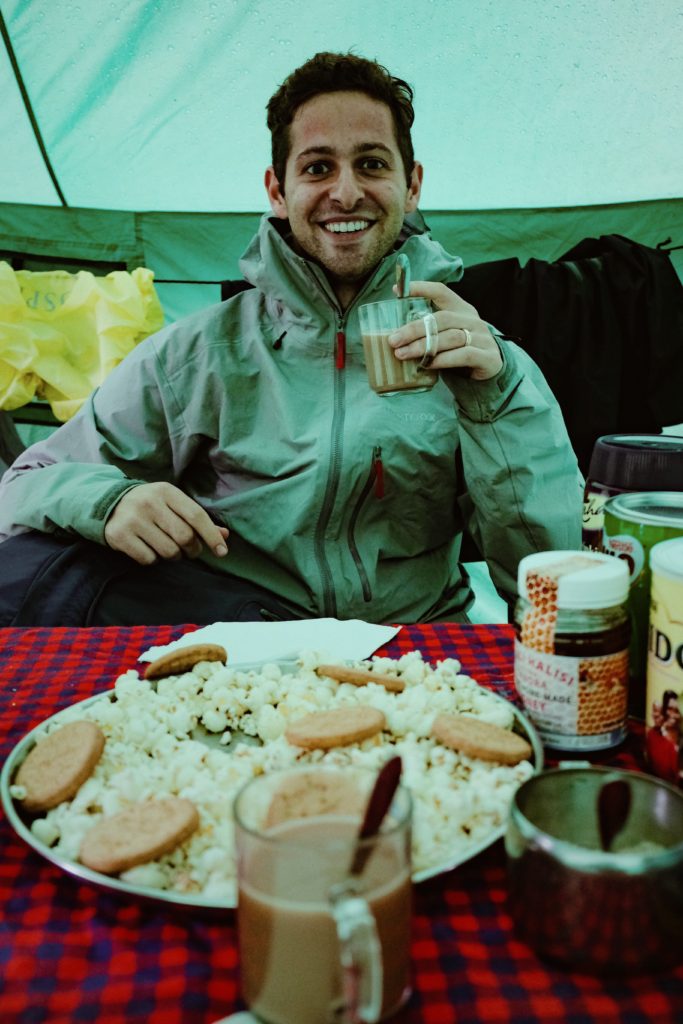 Days 2-3 – Moorland (Shira II Camp, Barranco Camp)
The following day, we left the rainforest and climbed steadily to the Shira Plateau moorland. Ben had a tough day when Delhi belly came back with full force (Ben: 0, diarrhea: 2). On top of that, his backpack cover proved useless when it rained once again, soaking his shitty pack. Note to self: test your equipment before you use it! It was a long seven-hour hike to Shira II Camp (11,647 feet) since day two on our 7 Day Route combined days two and three on the standard 8 Day Route.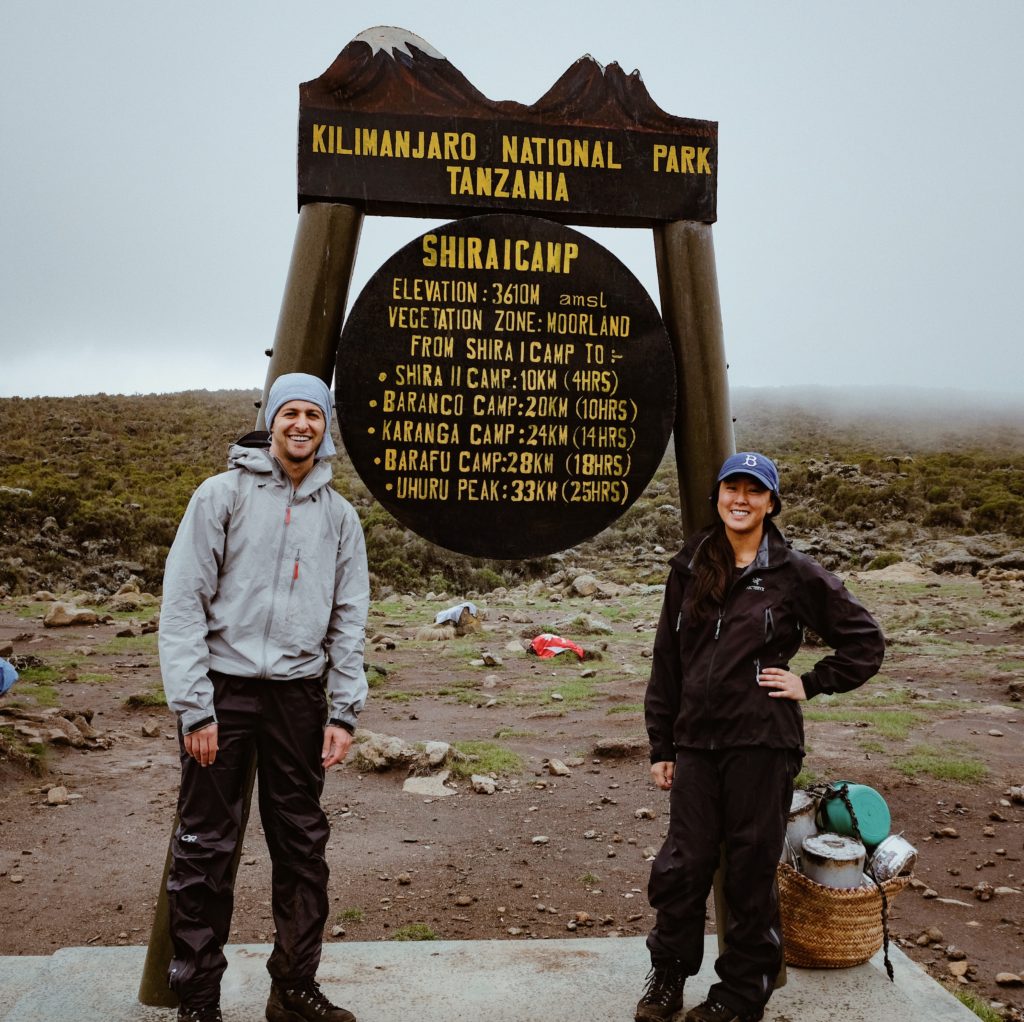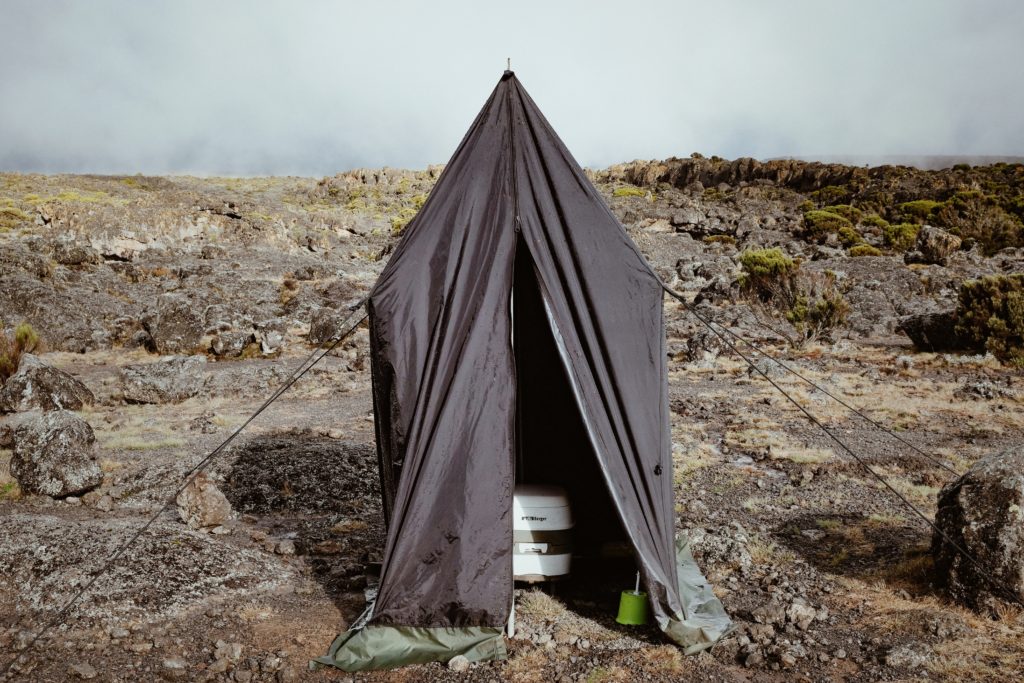 Day three (aka Acclimatization Day) took us to 15,092 feet (the highest elevation we'd ever been in our lives), where we spent an hour for lunch at Lava Tower before descending down to Barranco Camp (12,795 feet). I was a little worried since I had a slight headache at Lava Tower. However, our guides reassured me that climbing high and sleeping low helps the body acclimatize.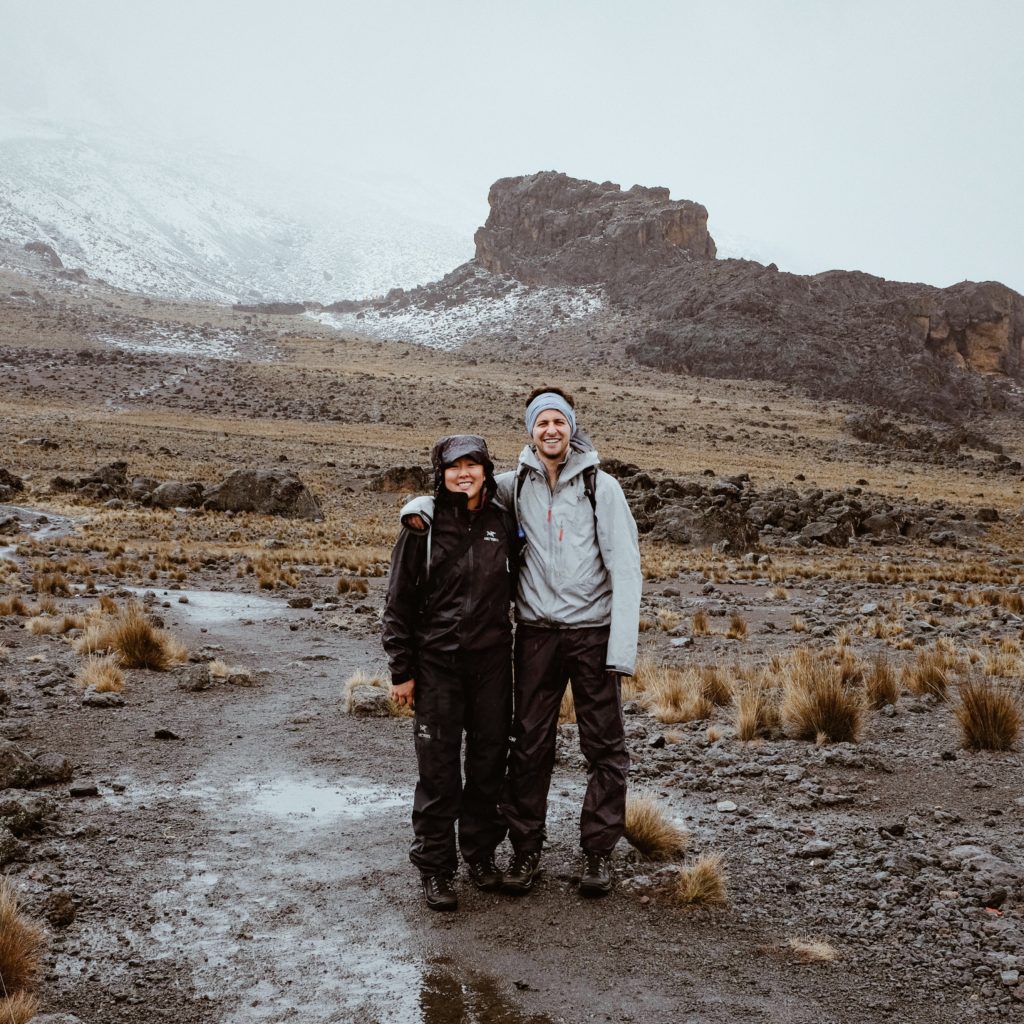 Day 4-5 – Alpine Desert (Karanga Camp, Barafu Camp)
Even though day four was a short one, it required us to scramble up the Barranco Wall (think, The Wall in Game of Thrones). There's one infamous section of the climb where you're literally hugging the rock face appropriately named "Kissing Rock." Once we reached the top of the Wall, we enjoyed an easy walk through the alpine desert of the Karanga Valley before a final ascent to Karanga Camp (13,123 feet).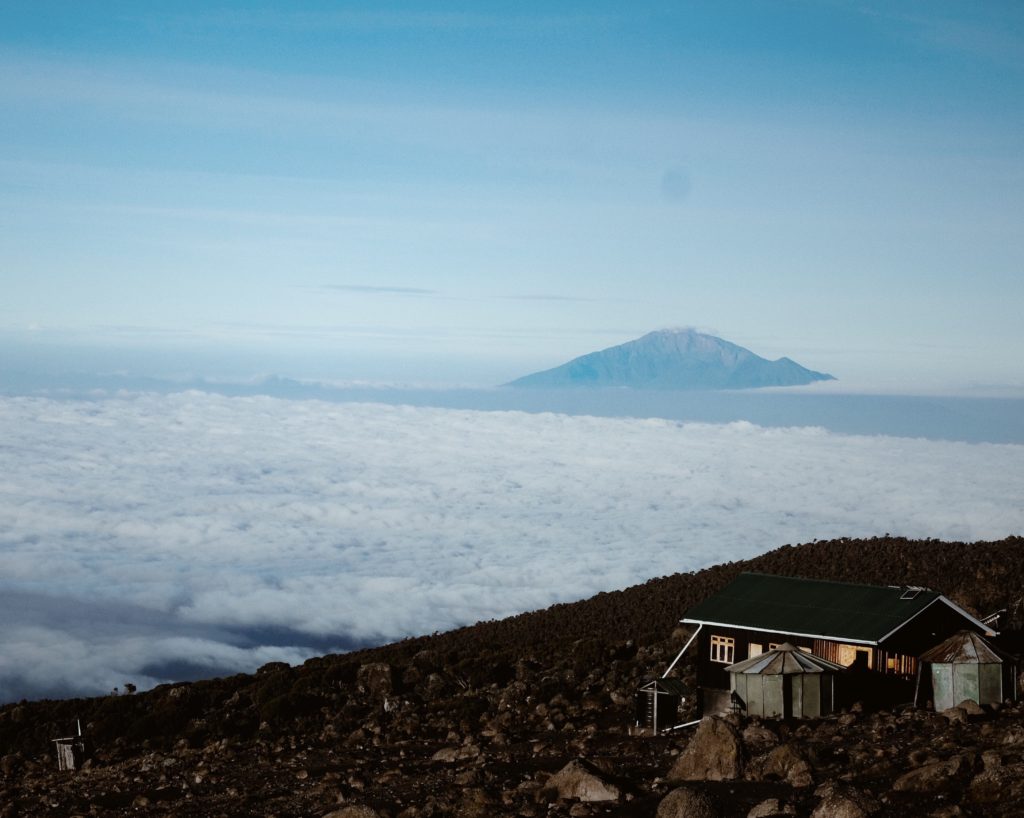 On day five, we finally got a day without rain! After a short hike to Barafu Camp (15,092 feet), we relaxed in preparation for summit and went to bed after an early dinner.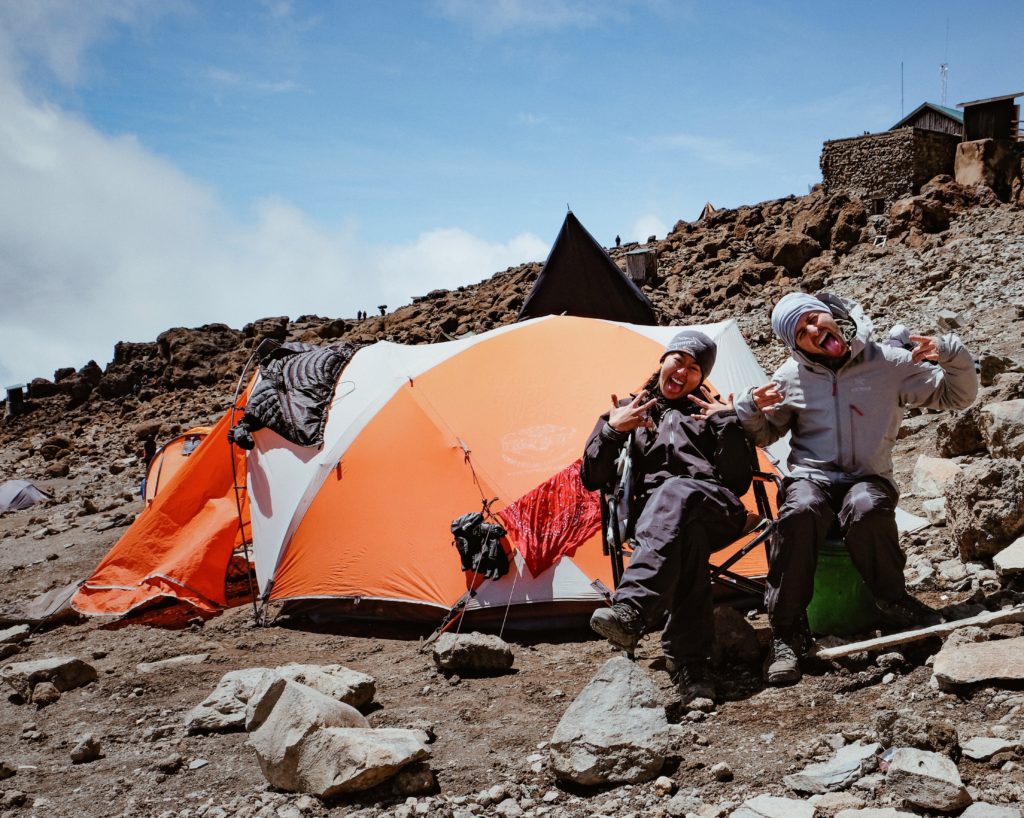 Day 6-7 – Arctic (Summit, Mweka Camp)
No joke… summit day was the hardest thing I've ever done in my life. We woke up before midnight in the cover of darkness and put on everything we had: long underwear, fleece pants, long sleeve shirt, soft shell jacket, insulated jacket, hardshell jacket and pants, and two pairs of socks (still not enough).
After popping some Diamox, we left base camp at midnight and began a steep climb over loose volcanic rocks. Despite some early challenges (the batteries in our headlamps went out and our feet went numb early in the hike), we kept up a good pace and made it to Stella Point (18,816 feet), situated at the rim of the main crater.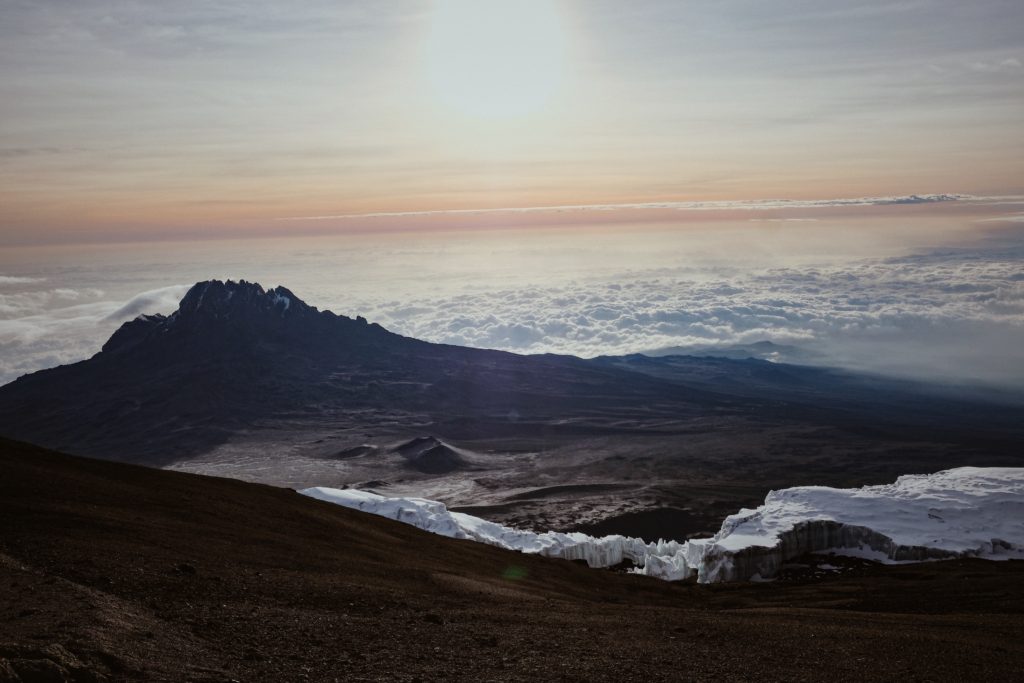 From there, we continued along the crater rim to the main peak, fighting against the biting cold. We rested for a brief moment along the way to watch the most beautiful sunrise I've ever seen. Once we saw the summit sign, we beelined it to Uhuru Peak (19,341 feet), where we celebrated (on the verge of tears), snapped a few pictures, and hauled ass back to Stella Point.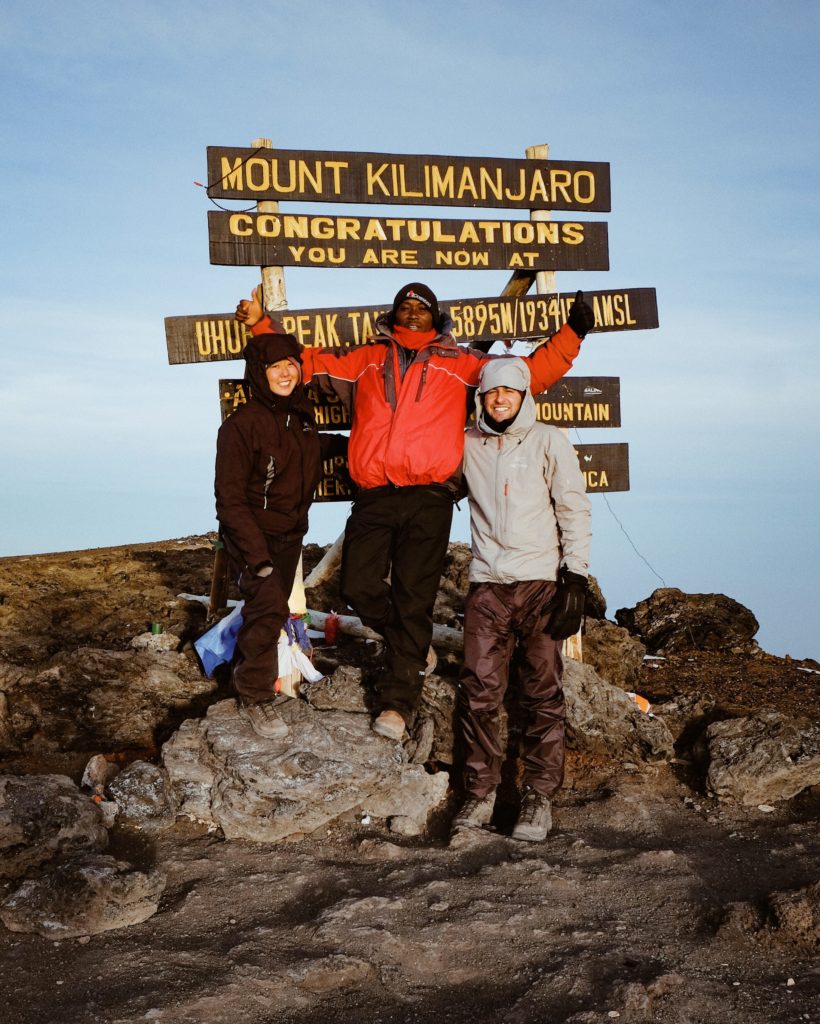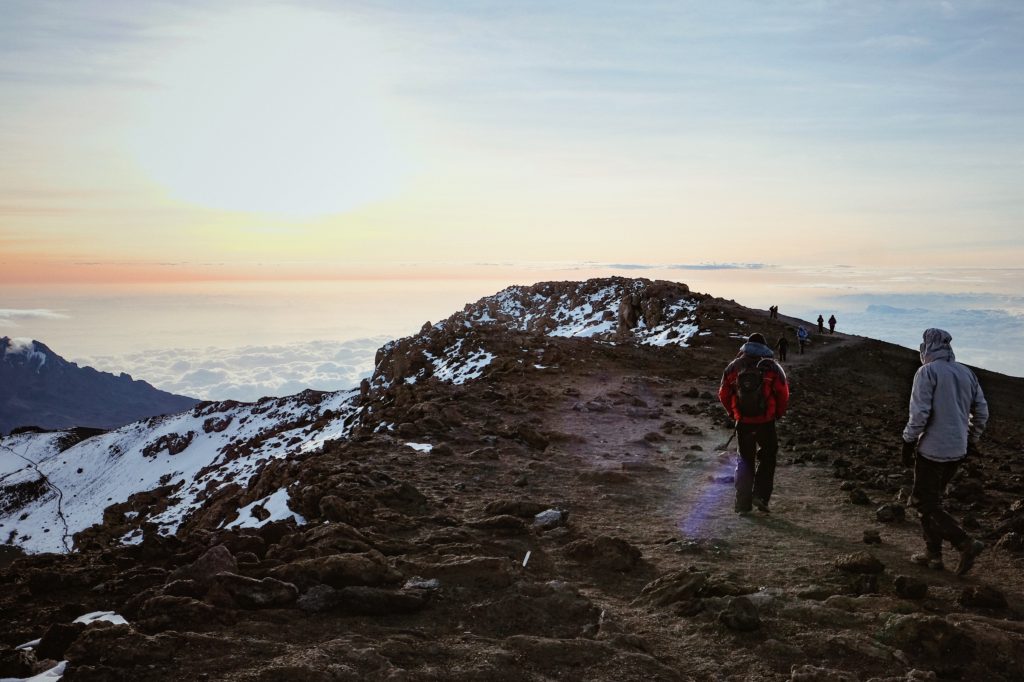 Unfortunately, the day was far from over since we had a three hour hike back down to base camp (plus another four hour hike to our camp for the night). As we started to descend, Ben's legs completely gave out and our guide, Andrew, had to walk him down the mountain. To Ben's defense, the majority of hikers were practically being carried down the mountain as well. Going down is arguably worse than going up!
We stopped at base camp for a power nap and lunch before a painful hike down to Mweka Camp (10,170 feet). The fifteen hour day tested us physically, mentally, and emotionally, but also taught us about the human potential. We witnessed all types of people make it to the top. The young, the old, the super fit, "the people who walking across the street is a workout." Still, it's an enormous accomplishment for anyone and an experience I'll cherish for the rest of my life!